Placemaking Program
Livingstone Shire Council Placemaking Program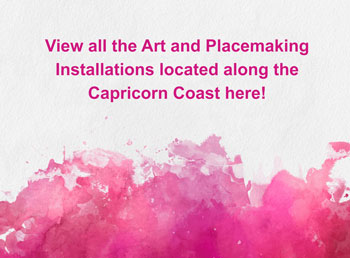 Livingstone Shire Council launched the Placemaking Program in 2017.
For those of you not familiar with placemaking, it's broadly about being more creative in the way we treat and interact with our public spaces in order to create a community that is more inviting, more interesting, more stimulating, more comfortable, more vibrant and more fun. The Council has elected to aggressively pursue placemaking because it understands that when people love a place/places this adds enormous social and economic value to a community, an outcome that is
core to the role of Local Government.
You can find out more about placemaking and the scope of Council's goals in the Placemaking Strategy Document.
Placemaking can be anything but commonly includes elements such as public art, landscaping, lighting, seating, play features, pedestrian pathways, activities and events. The goal of placemaking is to get the most community benefit out of public spaces through tweaking what's already there and through the installation of creative new features. Placemaking can be applied to publicly or privately controlled and managed properties. It is not something that Council does on its own or does 'to' the community; it is something that we all do together. The main objective of placemaking is to make people linger longer, smile more, engage more, contemplate, feel good about the space they're in, to come back and to love their community.

What does it achieve?

Activates public spaces by transforming them in ways people relate best to; being more appealing, surprising, activating and engaging
Makes people 'Love the Place!'
Enhances individual and community wellbeing
Creates community identity and pride
Enhances property values and investment interest


The best way to think about placemaking is to think about your own home. We call our home "our place" and we put a lot of effort into shaping it to suit our needs and preferences so that it is in fact "our place." This is "placemaking." Simply apply that same principle to the public domain, the space where everyone interacts; that is the broader form of placemaking, the process of shaping public space/s into place/s to capture and define who we are collectively as a community, celebrating ourselves and leveraging our assets to their maximum potential. We have favourite chairs, nooks, artwork, plants and so forth at home. Placemaking seeks to create these same "favourite" spaces in a public setting.

Why do it?

People love it; quality places create happy, healthy, engaged community members
Quality places retain and attract residents, tourists and businesses
Placemaking is extremely effective in maximising social and economic returns to the community
It provides considerable value for money and effort
Quality places are essential for preserving and developing the quintessential character of localities
Quality places create community identity, so supporting more effective community branding and marketing

Although it is Council's intent to apply placemaking across the Shire, only the Yeppoon Town Centre has so far been evaluated in depth meaning that most early placemaking initiatives will be focused on Yeppoon. Specific placemaking strategies are being developed for Emu Park and Causeway Lake and the rest of the Shire will follow. While the emphasis is on Yeppoon, placemaking initiatives are being carried our throughout the rest of the Shire, as evidenced by art interventions
at Emu Park and Kemp Beach.

A community survey to seek input on placemaking options was undertaken prior to adoption of the Placemaking Strategy. Community feedback from the survey was overwhelmingly positive and subsequent verbal and social media feedback on implemented initiatives has been equally favourable. Council is keen to keep communication lines open so your views and suggestions regarding completed placemaking projects and future priorities are always welcome by emailing placemaking@livingstone.qld.gov.au.

Council's role in the implementation of the Placemaking Strategy is to:

Lead by example
Inform the community about the scope and benefits of placemaking
Work collaboratively with the community in pursuing placemaking opportunites
Empower the community to develop private placemaking initiatives
Support the evolution of a Council culture of innovation and creativity
Apply placemaking principles wherever and whenever possible
Adopt a collaborative approach to the development and implementation of placemaking initiatives, internal and external
Identify opportunities and ensure these are incorporated into project and program design
Provide for future opportunities

How does it work?

To be effective, Placemaking needs to:

Involve local people
Be authentic and meaningful
Treasure, highlight and promote the defining characteristics of the community
Respond to the essential character of each locality by creating diverse distinctive experiences
Be creative, context relevant, inspirational and memorable
Be physically attractive and intellectually stimulating
Be a continuous endeavour

How can community members connect with the Council on Placemaking?

As previously stated, placemaking is a whole of community initiative. Anyone can "place-make" (or make place) at any time on their own property and the Council hopes that the community will embrace this attitude. Council also wants creative locals to provide their services in the delivery of local placemaking initiatives. To this end, creative community members are invited to submit their credentials and project ideas to placemaking@livingstone.qld.gov.au (Click here for the Expression of Interest for Placemaking Projects document) Council wants to know the skill sets available in the community and how these might be used for the production of placemaking initiatives. So artists, craftspeople, metal workers, wood workers, lighting specialists, event promoters and other artisans, please let us know who you are and what your inspired specialties are.

Community members may also engage with the Council via the Placemaking Reference Group (PRG). The PRG has been formed to foster ongoing public-private collaboration on placemaking. The PRG is comprised of a mix of community and Council representatives, whose role is to:

provide guidance to both the Council and community on key placemaking directions, priorities and key initiatives affecting the public domain,
assist in shaping and vetting placemaking ideas,
assist in promoting placemaking within the community and educating different sectors about what placemaking is, its purpose and benefits, and
nurture the initiation and management of placemaking actions and activities "by and for" the community
Status of Placemaking Program Implementation
Since placemaking became a Council priority, multiple initiatives have been undertaken to add character to the community. The following is an inventory of installations and activities to date (mid 2018), with information on how the project was delivered, photos and artist name.
Artists
Out There - Yeppoon based artist collective that has delivered a variety of public art works within the Shire and region
Edwards Clarke - Indigenous art company based in Nambucca Heads in NSW, specialising in large format indigenous the and region
Mash Design - Yeppoon based artist specialising in street arts and murals
Simon McLean - Gold Coast based artist, specialising in graphic character art and fine arts using oils, charcoal and water colours
Amber Countryman - Yeppoon based artist specialising in recycled art and mosaics
Brendan Tohill - Rockyview based artist, specialising in metal sculpture
Bush Designs - Gracemere based artist specialising in custom metal laser cut artworks and signs
Inky Hippo - An artist based in The Caves specialising in colour and intricate Persian influenced art designs
Hey There Happiness - Yeppoon based artist specialising in community art projects
Jet James - Yeppoon based artist specialising in varied art formats informed and themed by local elements of nature
Rosie Woods - Global street artist, originally from the UK
Yeppoon Yarners - A talented group of local ladies who have turned their knitting, crochet and associated yarning qualities to the creation of multiple local yarnbombing installations.
Emu Park Knitters and Knotters - The southern coast equivalent of the Yeppoon Yarners, equally talented and also responsible for multiple yarnbombing installations.
Project Deivery Logistics
PMP - Coordinated and funded through the Capricorn Coast Placemaking Program
PMPC - Coordinated through the Placemaking Program but funded from other sources.
LSC - Delivered through Divisions of Council (LSCP if undertaken in collaboration with private partners)
P - Privately funded and coordinated
PC - Undertaken in partnership between the Placemaking Program and community