ECO Destination Certification

ECO Tourism... What does it mean for us?
Ecotourism is 'ecologically sustainable tourism with a primary focus on experiencing natural areas that fosters environmental and cultural understanding, appreciation and conservation' (Ecotourism Australia). ECO Destination Certification for the Capricorn Coast recognises that the community as a whole is operating in the most sustainable way we can and will ensure we continue to improve how we care for our community, environment and culture, learning from a global network of destinations embodying sustainability best practice.
Why it matters to us...
Achieving ECO Destination certification puts our region on the global sustainable travel stage. It is a natural extension of the work that our community is already doing. We will welcome like-minded visitors who will care for and respect the community, local culture, and the environment. The best part is it goes beyond just visitors... it ensures our community has the most liveable place for both us and the generations yet to come!
Where are we on this journey?
Recognition of the work our local organisations, community groups and traditional custodians do has established the foundation for the Capricorn Coast to become an ECO Destination by 2024. Livingstone Shire Council has secured a grant through the Department of Tourism, Innovation and Sport and has strong support from our Regional Tourism Organisation, Capricorn Enterprise. Queensland is set to become a leader in sustainable tourism and the Capricorn Coast is already home to number of locally operated ecotourism certified operators paving the way.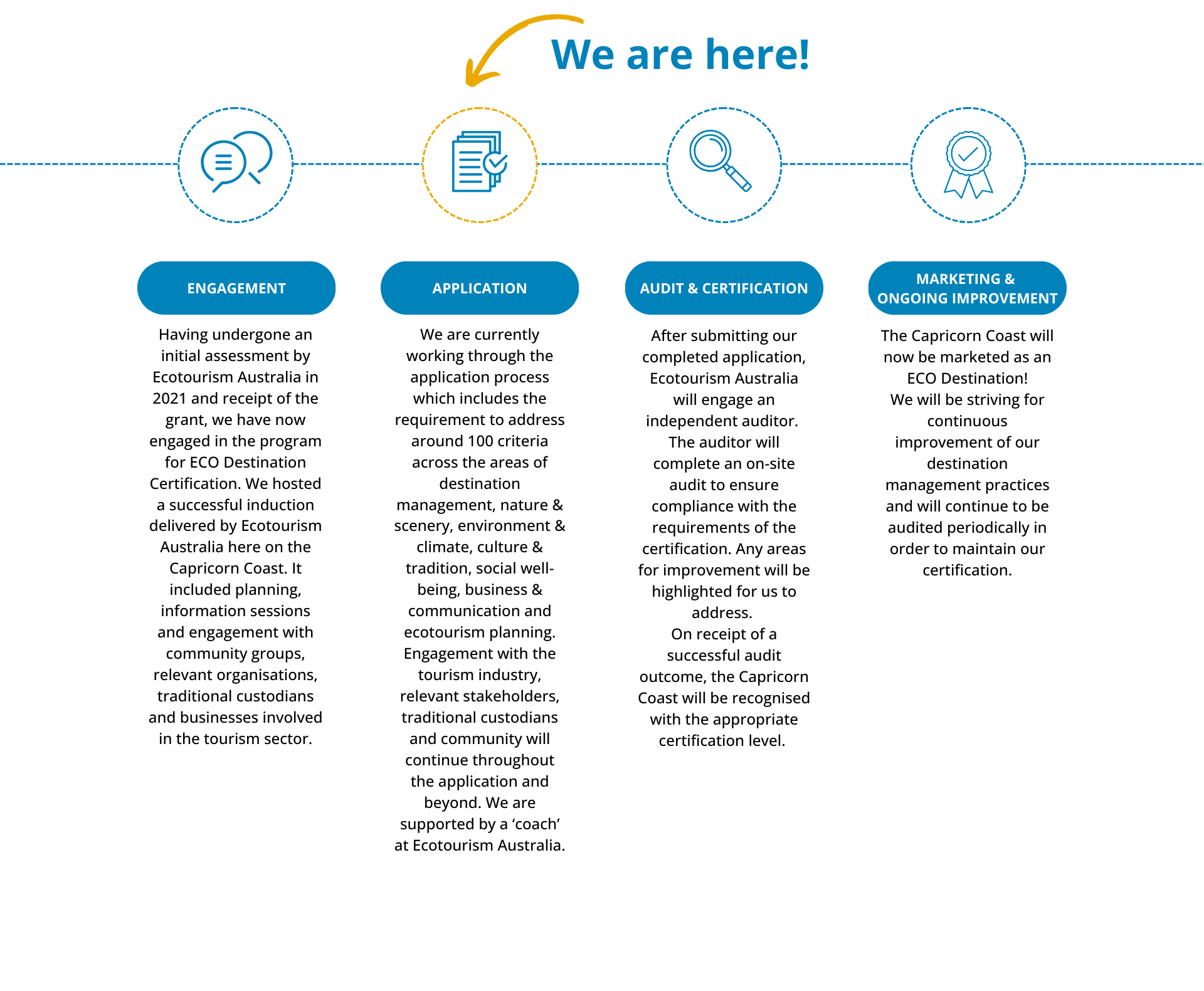 Working collaboratively with the community
Meet our certified local operators
Find out more
Check out what Council and other local groups are already doing in the environmental and sustainability space.
My Environment
Discover why the Capricorn Coast offers visitors the very best of Queensland.
Visit Capricorn
If you would like to know more about the ECO Destination Certification,
please email nrm@livingstone.qld.gov.au or visit
Ecotourism Australia