Capricorn Coast Parking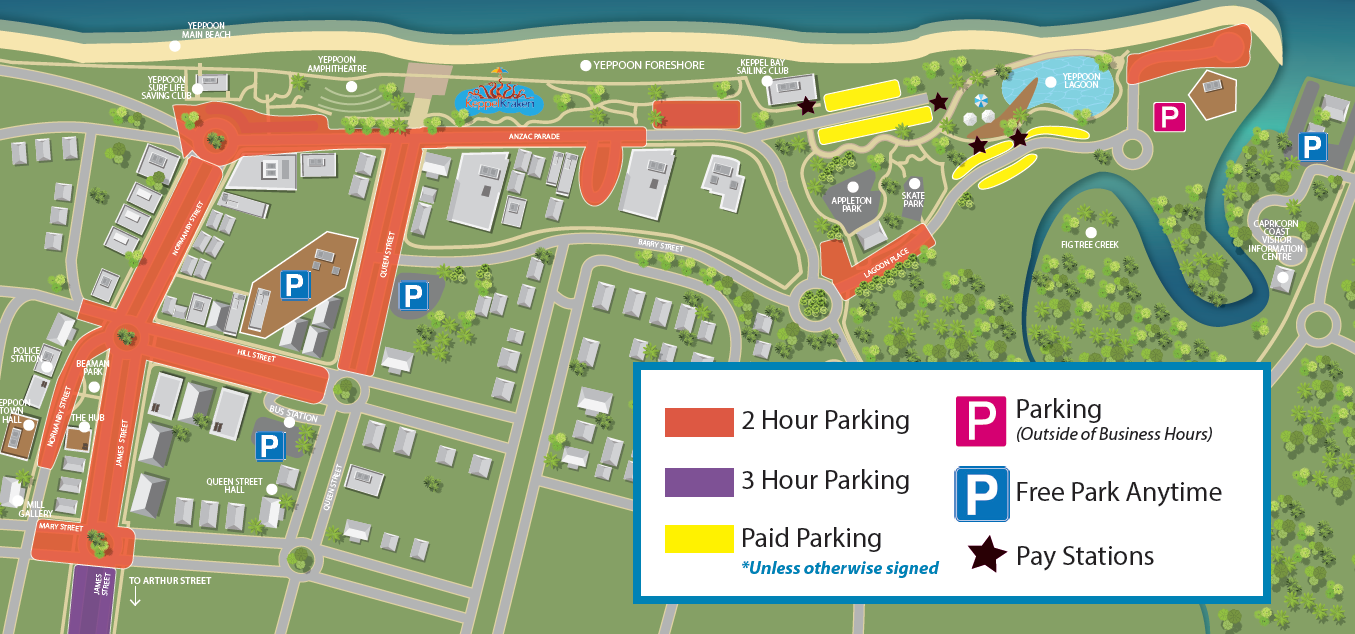 If you're visiting the Yeppoon Town Centre you can also consider taking advantage of free parking in the Yeppoon Town Centre multi-level carpark and other non-limited time parking areas, or if you want to park close to the shops there is free limited-time parking in some of our central zones. This will mean greater availability and better turnover of car parks on a more regular basis.
In the interest of improving customer experience, reducing carbon emissions and alleviating traffic congestion, Livingstone Shire Council have implemented parking technology to make parking around Yeppoon Town Centre and the area surrounding Yeppoon Lagoon a breeze.

The App will be available for download from 14 October 2019.

The Capricorn Coast Smart Parking app helps you find available on-street parking around the Yeppoon Lagoon precinct. Using real-time data and sensors, the app will show you the available parking spaces. The coloured markers (red, green, and amber) indicate the number of parks which are available.

Tapping a map marker will give you more information about the parking controls in that area. This includes hours of operation, time limits, parking fees, and other restrictions. By typing in your destination, the app can display and guide you to available parking options nearby.

Once you've found your park, the app lets you pay directly on your smart device. There's no need to make payment at the Ticket Machine!

To pay for parking via the app, you will need to create an account and log in. As an account holder, you'll be able to remotely 'top up' your parking to the time limit, without having to return to your vehicle. You will be notified when your parking is about to expire which will help you know when you need to return to your vehicle.

Download the Capricorn Coast Smart Parking app from your app store from 14 October and take the worry out of parking at Yeppoon Lagoon.

Key Features

Available in Guest Mode:

Find available parking near your destination
Real-time updates of parking availability
Turn-by-turn navigation to your selected location

Also available once you've logged in:

Pay for your parking via the app
Receive notifications when your parking is about to expire
Remotely 'top up' your parking session to the time limit, without having to return to your vehicle
Remembers your vehicle and payment details for future use

To use the Capricorn Coast Smart Parking app, you will need to have an internet data connection. To utilise all the features you must have 'notifications' and 'location services' switched on.

Council has responded to the need for regular turnover of carpark spaces to provide more equitable access for customers of local businesses and visitors to our foreshore attractions. These limited parking zones will ensure that everyone, including the local community and visitors, have convenient parking opportunities to shop and enjoy our revitalised foreshore and town centre.

The regulated parking areas include two and three hour timed parking zones in the Yeppoon Town Centre and will operate between 8.30am to 5pm Monday to Friday and 8am to 12pm on Saturdays.

If you wish to stay longer in town, the Yeppoon Town Centre Carpark is centrally located and offers over 300 all day parking spaces.

Regulated Parking Locations

8.30am - 5.00pm Monday to Friday , 8.00am - 12.00pm Saturday

Normanby Street (Anzac Parade to Town Hall) – two (2) hour;
James Street (Hill Street to Mary Street) – two (2) hour;
Mary Street (James Street to Normanby Street) – two (2) hour;
Mary Street (Portion Queen Street to James Street) – two (2) hour
Hill Street (Normanby Street to Queen Street) – two (2) hour;
Queen Street (Anzac Parade to Hill Street) – two (2) hour;
Anzac Parade (Normanby Street to John Street) – two (2) hour;
John Street (next to Salt apartments) – two (2) hour; and
James Street (Mary Street to Arthur Street) – three (3) hour.

When visiting the Yeppoon Lagoon precinct, please be aware of our parking regulations.

Here's what you need to know:

Time Regulation: Car parks have unlimited time, regulated by a pay-per-hour system.

Pricing: Parking costs $2.50 per hour during 8:30 am - 5:00 pm, Monday to Sunday.

Payment Options: You can easily pay using the Capricorn Coast Smart Parking app or at one of the four parking meters with a debit card – cash is not accepted.

Paid Parking Locations:

Anzac Parade Southern Carpark (Keppel Bay Sailing Club) – paid per hour
Lagoon Place (South of the skate park to the roundabout) – paid per hour.
Please make sure you park nose-in to avoid a fine.

Enjoy your time at the beautiful Yeppoon Lagoon hassle-free by following the instructions below, which you will also find on the side of each parking meter.

Livingstone Shire Council is committed to ensuring that it is a livable city now and into the future. As part of this commitment there are a number of innovative projects that are being rolled out across the precinct – one of these innovations is the installation of an on-street Smart Parking system.

The Smart Parking project has seen the installation of on-street in-ground vehicle detection sensors, a network of WiFi enabled SmartSpots, on-street payment machines and the 'Capricorn Coast Smart Parking' app.

The new technology will mean residents can easily check parking availability for the CBD, Lagoon Place and Anzac Parade before they leave home, and if parking in Lagoon Place or Anzac Parade can also use the app as a payment method.

In Ground Sensors

In-ground sensors record when a parking space is occupied and the duration of the vehicle's stay.

Approximately 86 sensors have been installed around the Lagoon precinct and over 200 in the Yeppoon CBD. The sensors are flush with the ground and are visible in the parking space.

The sensors will collect accurate information on parking vacancy changes, supporting a more efficient turnover of spaces and helping to increase parking availability for residents, businesses, shoppers and visitors.

Sensor FAQ's

What is a parking sensor?

A parking sensor is a small electronic device that is installed in the ground to detect and record the time a car arrives in, and departs from, a parking bay. Each parking bay is fitted with its own sensor.

Why parking sensors?

As we move towards being a "smart city" we are taking the opportunity to provide remote parking availability via a parking app. You can download the Capr Coast App for free in the app store from 14 October 2019. Parking sensors have become the standard for monitoring parking spaces, collecting data and reporting on non-compliance.

How do the sensors work and do they affect how parking fines are issued?

Once a vehicle has overstayed the maximum time permitted in a bay, as indicated by the sign, the patrolling parking officer will receive a message from the sensor. The officer will still check the vehicle to confirm its details and gather other relevant evidence before deciding to take any further action

What information about me does the sensor capture?

The sensor does not capture any information about a driver or vehicle. If a vehicle is offending or overstaying a parking restriction the sensor will alert the Parking Officer to attend and investigate.

Are the sensors accurate?

Yes. The sensors are very accurate. They record the exact time that a vehicle enters and departs a parking bay.

When does my parking time start?

Your parking time starts as soon as your car stops in the bay and activates the in-ground sensor, not when you step out to pay for it at the meter or on your phone. The onus is on you, as the driver, to pay for your parking as soon as you park your car and abide by the signage for that bay.

Are sensors linked to parking meters?

Yes. Sensors correlate to the numbered parking bays for payment at meters in the paid parking area around Yeppoon Lagoon. You cannot pay for an empty space if a vehicle is not in a bay. Sensors in time limited spaces do not link to parking meters in the CBD area.

What if the sensor time is slightly different to the time on my watch/clock?

The sensors are synchronised through a central server, which is set to Australian Eastern Standard Time. The devices used by parking officers to issue infringement notices are synchronised through the same server.

What happens if I overstay my parking time limit?

We encourage you to move your vehicle once your parking session has expired to avoid receiving an Infringement.

If you believe there is a good reason for you not to pay the infringement, you may apply for an internal review. All requests for review against an issued parking infringement are to be made as soon as possible after it is received. This is preferably within 7 days. This involves completing the Statutory Declaration for Review of Infringement Notice and returning it to us.

Most internal reviews will be completed within 14 days; however the process can take up to 90 days or longer if additional information is required. A letter will be sent to you advising the outcome of the review process.

Step 1

An internal review is decided on the following grounds:

Did the offence occur? (The facts and particulars of the offence are correct)
Has the infringement been issued to the correct person? If not, then the registered owner must nominate the driver responsible by providing full name and residential address
Where the circumstances that led to receiving a parking infringement notice were beyond the control of the driver (exceptional circumstances).

Step 2

The following grounds of appeal are NOT CONSIDERED VALID reasons for withdrawal of parking infringement notice:

Poor visibility due to weather
Not noticing a sign
Reading only part of a multi-panel sign
Being unable to read the sign from the front seat of the car
Forgetting to read the sign
Not noticing that a sign/restriction had been changed
Running late or being in a hurry
Being delayed at an appointment
Stopping for a short time in a prohibited area (for example; stopping in a 'no stopping' area even if it is just to pick up or drop off passengers or goods)
Being new to the area and unfamiliar with the restrictions (this applies regardless of whether the driver is from interstate or overseas)
Being unaware of the road rules (all licensed drivers are expected to be aware and comply with the road rules at all times)

Step 3

When contesting your fine please provide as much detail as possible in your explanation.

You must include the following:

Parking infringement number
Date of offence
Vehicle registration number
Name
Address
Contact phone number.

The personal information required on this form is collected by us to assess the internal review. Failure to provide this information means that we can not assess your internal review.

When you have completed the form please return it to us.

Step 4

The following are circumstances are when we may consider withdrawing an infringement notice:

If your vehicle has broken down
If you are in or involved in a medical emergency

All of these circumstances must be backed up with documentation, such as a letter from the hospital or your doctor, copies of towing dockets and repair invoices, or copies of lease documents and contracts of sale. We may also require a Statutory Declaration if the circumstances are complex and not fully explained by third party documentation.

What happens if your appeal is unsuccessful?

You have the option of either paying the infringement notice or electing to have the matter heard in the Magistrate's Court. You must notify us in writing if you wish to refer the matter to the Magistrate's Court. If you fail to pay or respond within 28 days of the decision notice date, we will commence further legal process.

For more information on parking fines contact us at our Online Service Centre.