Sister City Relationships

Council established its first Friendship City Agreement with Yangzhong in Jiansgsu Province, Zhenjiang Prefecture in China and a Town Friendship Agreement, with Xinba, Jiangsu Province, the People's Republic of China in September 2017.
The objective of the International Relations is to broaden economic and cultural opportunities for our community, promote investment opportunities and grow the economy of the Capricorn Coast region by capitalising on international relationships and providing future partnership and investment opportunities.
The future of the Capricorn Coast region is envisioned as a true global region, renowned for its liveability, connectivity, creativity and prosperity. Establishing relationships with major trading partners such as China will build on the current investment interest in the Capricorn Coast Region promoting Great Keppel Island Resort, Capricorn Resort and future beef and produce export opportunities.
A Sister City Policy has been developed to promote people-to-people links and a contemporary and positive image of Australia. To remain globally competitive the Capricorn Coast region must establish itself strategically in the global community.
Traditionally, Sister City relationships focused on cultural and education exchanges. It is now recognised that these relationships also have the ability to stimulate economic growth, attract investment increase tourism and assist in establishing reliable business contacts which can create long-term benefits to the local community and partners abroad.
They also enable communities to exchange ideas, gain an international perspective and increase their understanding of global issues.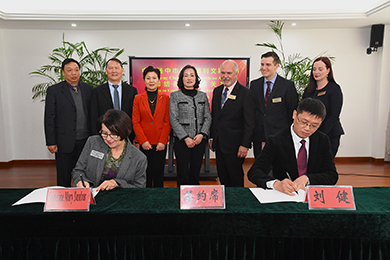 Principal Catherine Dunbar Signing Sister School Agreement with Yangzhong Baqiao Secondary School in 2019.
Council's delegation visited the City of Yangzhong in September 2017 to formalise a Friendship City Agreement, explore Yangzhong and promote possible investment prospects in the Capricorn Coast region. The trade mission was very successful and will help to advance tourism, economic and cultural exchange opportunities with China. The invaluable learning experience has given Council great prospects to explore several investment opportunities, while also continuing to strengthen our new Friendship city agreement and ongoing relationship with the City of Yangzhong.

The City of Yangzhong and Livingstone Shire will engage closely to enhance the Friendship City relationship, driving common interests to positive outcomes. The City of Yangzhong and Livingstone Shire will work together on opportunities for mutual economic growth and will advocate for each other on potential economic development projects.

As a small but vibrant and diverse community, our journey to establish our global identity is only just beginning and we are fortunate to be able to draw on our new friends in China, for advice, guidance and a shared vision for long term economic prosperity.

About Yangzhong

Yangzhong is a county-level city under the administration of Zhenjiang, Jiangsu province, China. It is the easternmost county-level division of Zhenjiang City, located in the middle south of Jiangsu Province and in the cradle of the Yangtze River. It is largely situated on the second biggest island in the Yangtze River, known locally as Yangzhong Island, which was formed about 300 years ago during a major flood event. It occupies an area of about 332 square kilometres, with a land area of 228 square kilometres and a permanent population of 330,000. It is flat (with the exception of a man-made hill which is about 6 metres high) and has an elevation of two to three metres above the normal river level.

Yangzhong port navigates with 136 ports from more than 40 countries and electrical engineering industry accounts for 20% of the domestic market share. The whole city has 54km long deep-water shoreline that is basically undeveloped. As an island in the Yangtze River, Yangzhong has two affiliated islands undeveloped (Xisha Island and Leng Gong Island). Their ecosystems are well preserved, suitable for tourism vacation, health care, regimen and wetland park etc.

Yangzhong and Livingstone will make joint efforts to act as a facilitator of opportunities within each respective region in order to achieve desirable cultural and economic outcomes for mutual benefit and will continue to promote the friendship between the peoples of the City of Yangzhong and Livingstone Shire. The parties will pursue joint efforts to develop positive exchanges and cooperation in the fields of economy, commerce, industry, education, tourism, sports, culture, urban construction, the environment and others of complementary interest.

Council's delegation visited the town of Xinba in September 2017 to formalise the Town Friendship Agreement between Yeppoon and Xinba, and to explore Xinba and promote possible investment prospects in the Capricorn Coast region. The trade mission was very successful and will help to advance tourism, economic and cultural exchange opportunities with China. The invaluable learning experience has given Council great prospects to explore several investment opportunities, while also continuing to strengthen Yeppoon's new Town Friendship agreement and ongoing relationship with the Town of Xinba.

The Towns of Xinba and Yeppoon will work together and pursue joint efforts to develop positive exchanges and cooperation in the fields of economy, education, tourism, sports, culture and the environment as well as others of complementary interest. The towns will also work together to achieve opportunities for mutual education and cultural growth and advocate for each other via potential exchanges of students, artists and knowledge sharing projects. Both towns will make joint efforts to act as a facilitator of opportunities and friendship within each respective region in order to achieve desirable cultural and economic outcomes for the mutual benefit of Yeppoon and Xinba.

As a small but vibrant and diverse community, our journey to establish our global identity is only just beginning and we are fortunate to be able to draw on our new friends in China, for advice, guidance and a shared vision for long term economic prosperity and community vitality.

About Xinba

Xinba Town, Yangzhong City, Zhenjiang Prefecture-level City, Jiangsu Province is located at the northwest part of Yanhzhong City. It is the first town in the Yangzhong City, with a total area of 49.2 square kilometres, 47 thousand people, 12 subsidised administrative villages, two community resident committees and one provincial high-tech industrial development zone.

Presently, Xinba Town has become the national electric power industrial base whose asset reaches 55 billion yuan ($635,549,475), accounting for nearly 20% of the national market share, as well as the sole "China Industry Cluster Regional Brand Demonstration Area" in the national electric industry.

Jiangsu Provence Yangzhong Baqiao Secondary School and St Ursula's College

Jiangsu Province Yangzhong Xinba Middle School and Yeppoon State High School

Jiangsu Province Yangzhong Senior Middle School and St Brendan's College