Food Safety
Food Safety for Businesses
Safe food can be defined as food that does not cause adverse health effects following consumption. Consumers trust that the food they purchase will be safe and of the highest quality expected. The correct construction, maintenance and operation of a food premises ensures the general community is protected from food that is not safe to eat. Queensland's food regulatory framework is in place to ensure these issues are addressed by all food businesses and there are significant penalties for food businesses that do not comply with the law.
An important part of the regulatory framework for providing safe food is licensing. Council is responsible for licensing food premises in accordance with the Food Act 2006 and the Food Safety Standards. The main purpose of the Food Act 2006 is to ensure food for sale is safe and suitable for human consumption. The Food Safety Standards set out the specific requirements for the food businesses and food handlers that, if complied with, will ensure food does not become unsafe or unsuitable. The standards also set out requirements for food premises and equipment that, if complied with, will facilitate compliance by food businesses with the food safety requirements. The Act requires Council to monitor the standard of operations in fixed, mobile and temporary food premises. This monitoring is achieved by providing for the licensing of particular food businesses.
You can obtain a copy of the Food Act 2006 from the Queensland Government website. The Food Safety Standards are available on the Food Standards Australia New Zealand website.
LPG Safety
The Petroleum and Gas Inspectorate from the Queensland Government Department of Natural Resources and Mines has developed an LPG Safety List for outdoor events to assist event organisers in ensuring that all gas installations at outdoor events comply with the relevant Australian standards.
It is strongly recommended that this checklist be completed by each stall holder once set up, but prior to the commencement of the event. Petroleum and Gas Inspectors may conduct inspections at outdoor events. Compliance with items on the checklist will ensure the safety of workers and patrons alike.
Download the LPG safety checklist for outdoor events or visit the Department of Natural Resources and Mines website for more information.
Food Safety Records
Handy customisable templates for record keeping for your business e.g. Temperature control, cleaning and sanitising or pest control.
| # | Name | Size | File Type | Download |
| --- | --- | --- | --- | --- |
The Grill Newsletter
| # | Name | Size | File Type | Download |
| --- | --- | --- | --- | --- |
Mobile and Food Stall Waste
Waste Water Disposal
All waste water generated from with a mobile food van or food stalls must have a waste water collection system that can adequately hold the waste water generated. This includes waste water generated from hand washing and washing facilities. The waste water collection system must be located in an area where it cannot contaminate food or food contact surfaces. The waste water must be disposed of to a sewer drain or other approved location.
NOTE: Disposal of waste water to the storm water system is strictly prohibited.
Council has a public dump point located at Merv Anderson Park off Scenic Highway Yeppoon near the public toilet facilities.
Waste Disposal
Mobile vans and food stalls must have an appropriate waste disposal bin with a close fitting lid to ensure all wastes are protected from vermin. Waste storage and disposal must not cause an environmental nuisance. Waste oils/fats cannot be disposed to sewer. It is the stall holder's responsibility to dispose of their oils/fats. Collecting large quantities of oils/fats into a container for subsequent disposal off site is the preferred method.
Under 20 litres oil you can dispose (for free) at Waste Management Facilities throughout Shire.
More than 20 litres - Dispose of through a specialist disposal company by looking in the Yellow Pages under 'Waste Reduction & Disposal'
Merv Anderson Park - Dump Point Location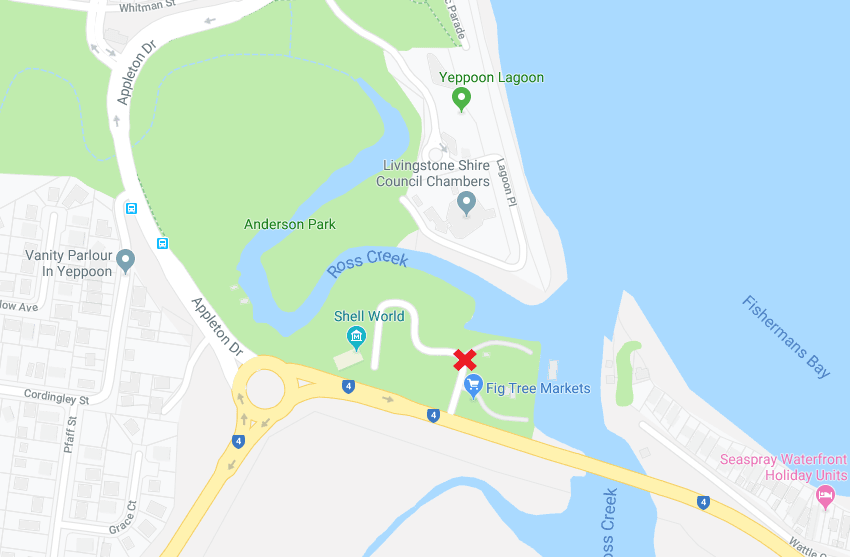 Food Safety Programs
Who requires an Accredited Food Safety Program?
The Food Act 2006 requires some licensable food businesses to have an accredited Food Safety Program (FSP) to identify, document and control food safety hazards within a food business.
Food businesses requiring an accredited FSP include:
Offsite catering,
Onsite catering at the premise stated on the licence,
Onsite catering at part of the premise stated on the licence, catering for to 200 or more people, on 12 or more occasions per year such as a function room used for onsite catering on the premise of a large hotel,
Operations of a private hospital under the Private Health Facilities Act 1999,
Production of potentially hazardous food for vulnerable populations including hospital patients, young children in child care centres, elderly people in aged care facilities, and services such as meals on wheels.
Food Safety Programs
Food Safety Programs for Caterers
Food Safety Programs for Vulnerable Persons
The contents of the Food Safety Program must:
Systematically identify the food safety hazards that are reasonably likely to occur in food handling operations
Identify where, in a food handling operation of the food business, each hazard can be controlled and the means of control
Provide for the systematic monitoring of the means of control
Provide for appropriate corrective action to be taken when a hazard identified is not controlled;
Provide for a regular review of the program
Provide for the keeping of appropriate records for the food business, including records of corrective action taken to ensure that the business is in compliance with the program
Contain other information, relating to the control of food safety hazards, prescribed under regulation
There are various templates available on the Queensland Health website. When using a template to develop a FSP ensure that it is altered to reflect the actual activities conducted at the food business.
Applying for Accreditation of a Food Safety Program
To make an application for FSP accreditation with Council, you must submit a fully completed form with supporting documentation and the relevant fee. If you are applying for a food business licence and the food business requires FSP accreditation, you must apply for both together using the Application for Food Business Licence. If you already have a food business licence, you must complete the Application for Food Safety Program Accreditation.
Written advice from an auditor is required to make an application for accreditation. Approved Third Party Auditors can be found on the Queensland Health website. The following factsheet details further information about Choosing a Food Safety Auditor.
Once an application is received Council has up to 30 days to accredit the FSP. You will be contacted should additional information be required to process the application, please note this will extend the processing timeframes. You will be notified when a decision has been made regarding your application.
To make an application for accreditation of a food safety program. You must submit to Council the following:
A completed Application for Accreditation of Food Safety Program,
Two copies of the food safety program,
Written advice from an approved Food Safety Auditor,
The prescribed fee.
If you are applying for a new food business licence and the food business application requires FSP accreditation, you must apply for both using the Application for Food Business Licence form.
Application for Amendment of Accredited Food Safety Programme
FREE DoFoodSafely Online Training Program
Livingstone Shire Council is assisting food businesses to meet their obligations under the Food Act and Food Safety Standards by providing free access to the DoFoodSafely online training program.
This training will assist food handlers in developing the required skills and knowledge to ensure food is handled in a safe and hygienic manner. DoFoodSafely is also available to everyone in the community to ensure food safety in the home. It takes approximately 30 minutes to complete and is available in English, including Vietnamese, Chinese (Traditional) and Arabic. Users can choose to undertake an quiz to gain a certificate of completion.
A training acknowledgement certificate can be printed upon completion and be kept as a part of your food safety records. Please note that completing DoFoodSafely online training does not fulfil the required competencies for a Food Safety Supervisor.
Visit this website to conduct the training.
Your Pet Your Responsibility Factsheets
Click here to download Livingstone Shire Council's Dogs In Dining Areas Factsheet to find out more about your obligations and your customers' obligations to allowing dogs into your dining areas.