Sustainable Livingstone Expo - 2021 Event
The Sustainable Livingstone Expo is back on 3 October 2021!
This free event will bring together all sorts of locals working towards a more sustainable future – at work, at home, in the community, and in the environment. From turtles to electric vehicles and everything in between, there's sure to be something for everyone at the Sustainable Livingstone Expo this year!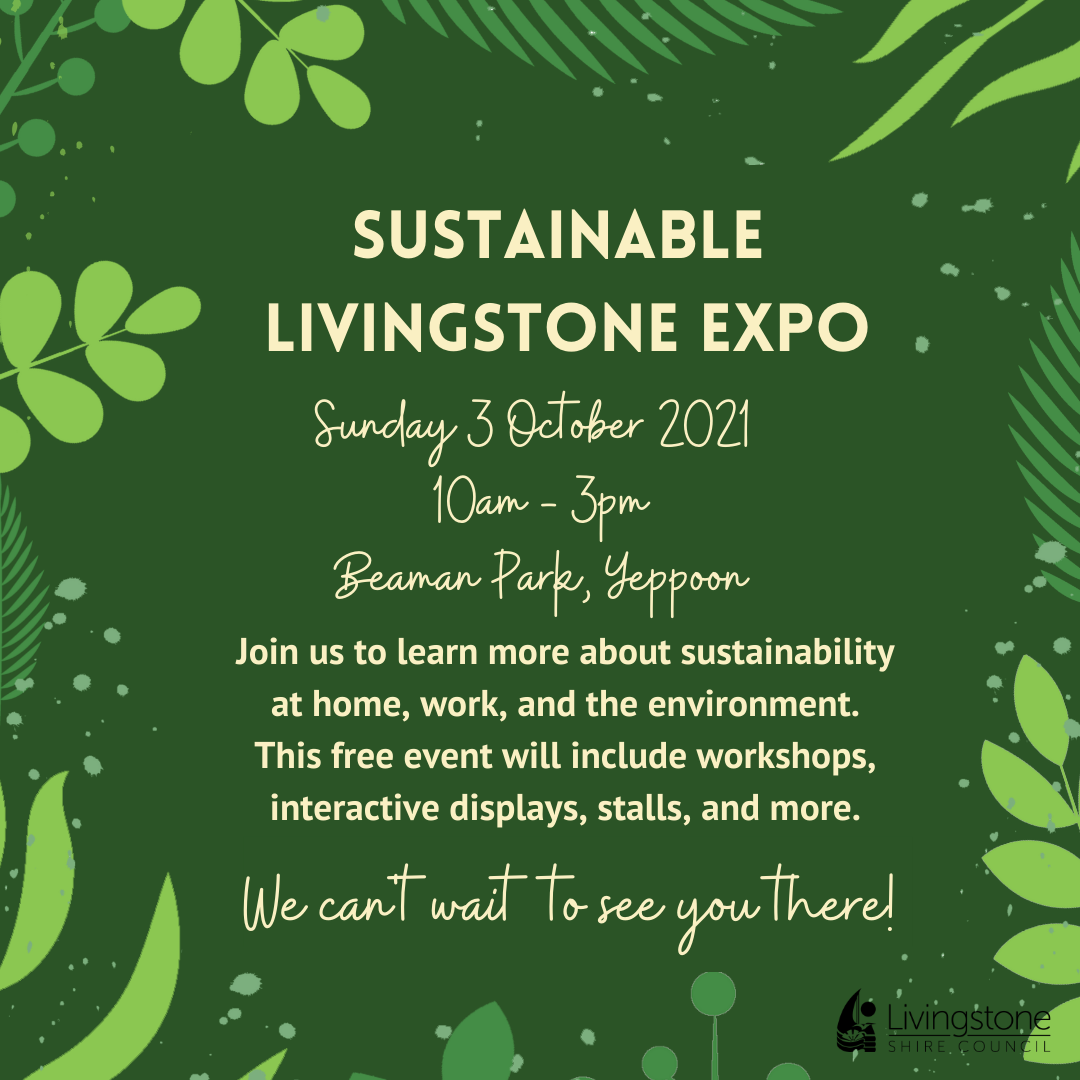 There will be plenty to see, learn, and do at the Sustainable Livingstone Expo! We've got an awesome line-up of inspiring locals, each of whom will run a short presentation or workshop. These include:

Ken Mason (Woodvale Park Biodynamics) will tell attendees about the principles of biodynamic farming as well as providing a crash course in composting
Gaven Gilmour* (Bauhinia Architects) will share information about passive solar design to help those building or renovating make better use of the sun
Ross O'Reilly (High Valley Dawn Permaculture Farm) will teach participants about the benefits of permaculture, paddock-to-plate growing and dining, and the magic of compost
Jo Stoyel (Plastic Free CQ) will be on hand to answer your plastic waste reduction questions and help everyone become more mindful of single-use plastics
Amanda McLardy (Stir&Stitch) will give attendees tips and tricks for upcycling clothing and provide practical, straightforward tips on how we can cut back on food waste
Mike Dalton* (Livingstone Shire Council) and Larelle Fabbro (CQUniversity) will showcase Livingstone's award-winning water supply

Note – no bookings required to attend workshops/presentations, however presentations marked with an asterisk (*) will have numbers capped at 15 for COVID safety. All other workshops/presentations will be conducted outside and therefore will not be capped.

If you've ever wanted to know more about local conservation efforts, our local catchments, or how shopping second-hand helps preserve our environment, join us at the Sustainable Livingstone Expo!

There will be a great range of stallholders providing information, advice, activities, and more at the Expo, including:

The Capricorn Conservation Council
EcoLove Reusable Nappies
Livingstone Shire Council's Natural Resource Management Team
Waterpark Farm
Capricornia Catchments
Mama's Natural Magic
Livingstone Shire Council's Sustainability Team
Bicycle User Group
Plastic Free CQ
Fitzroy Basin Association
Team Turtle CQ
Stir&Stitch
Electric vehicle display (with owners on hand to have a chat and answer your questions)
North Keppel Island Environmental Education Centre
Livingstone Shire Council's Waste Management Team
Rocky Instincts
Great Barrier Reef Marine Park Authority
Bat Care Capricornia
Livingstone Shire Council's Pest Management Team
St Vincent de Paul
Native Plants Queensland
Wildlife Preservation Society Queensland

There's steps we can all take to live more sustainably – come to the Expo and find out how!

If you would like more information about the Expo in 2021, please call Council on 4913 5000 or email NRM@livingstone.qld.gov.au and one of the team will get in touch.