Wellness at the Coast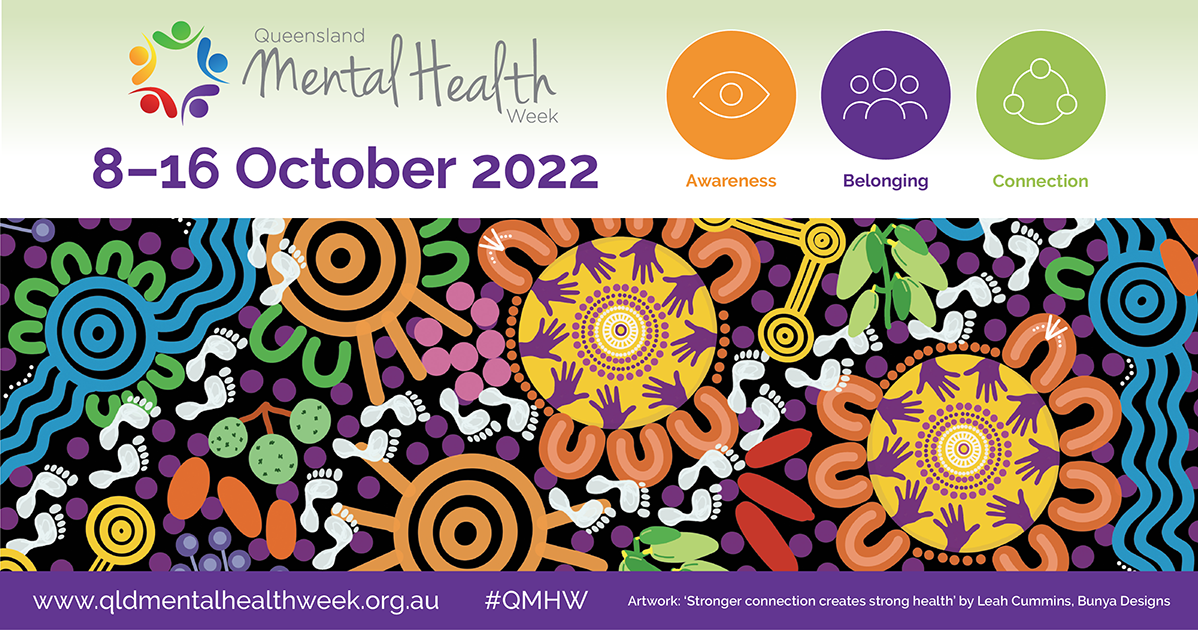 Wellness at the Coast is our free community event aligned with Queensland Mental Health Week (QMHW), and we're back again this year to support our community with maintaining mental health and wellbeing, tackling the stigma of mental illness and providing access to resources and services.
Join us this year at the Town Hall to enjoy our informative guest speaker program where you can learn about the importance of communication in caring communities; nutrition and mental health; simple self-care rituals; creating calm in chaos; and hearing about lived experiences with mental health journeys and recoveries.
Come and meet many of our local community services providers who will be ready to share their knowledge and support. There'll also be some soothing activities to take part in, such as painting, drawing and vibration healing.
Across the road in Beaman Park you can join in our yoga sessions, receive some reiki healing, and soak up the good vibrations from our drumming sessions.
Plus, there'll be healthy food available and lucky door prizes to be won.
And you won't want to miss this year's wonderful evening performance by internationally acclaimed Tibetan musician, Tenzin Choegyal. Tenzin's cantering rhythms, soaring vocals and exquisite flute solos will surely take you on a spiritual and cultural journey to the Himalayan plateaus. Learn more about this wonderful experience and get tickets to Tenzin's performance here.
Speakers
Joshua Nunn, Accredited Practising Dietitian, CQ Nutrition

Private Practice Dietitian servicing the Yeppoon and Rockhampton CQ Nutrition clinics. Josh has a Bachelor of Nutrition & Dietetics from University of Newcastle, and completed a Cert IV in Commercial Cookery at TAFE. He is experienced with nutrition management for a variety of clinical conditions including weight management, diabetes, cardiac rehab and bariatrics. Josh has particular interests in sports dietetics and works hard to develop individualized strategies to achieve client's desired body composition goals. Josh is a qualified chef and is inspired to educate individuals how to cook simple and nutritious food from home.

Rhonda Whiteley - Founder of Inner Pathways Educations

Rhonda is the Founder of Inner Pathways Educations, guiding women to uncover their strengths through Breaking the Chains and Power to Freedom online programs.

Drawn to meditation, Chakradance and holistic health by her own health challenges, Rhonda has discovered the healing and therapeutic benefits of the practices.

Rhonda is passionate about helping clients realise their own potential and achieve vibrant health by dramatically creating healthier, more balanced lives. She will help you discover the inner strength and provide guidance to release old patterns and beliefs.

Practicing meditation and holistic wellbeing Rhonda has found balance in her life. She is a creative understanding person who loves to learn and share her knowledge with others to help them uncover their true self.

Rhonda has an Advanced Diploma in Meditation Teaching & Holistic Human Development, HICAT Diploma (Holistic Integrated Creative Arts Therapist) and is a Chakradance Facilitator.

Sissy Mylrea - See Change Soulful Counselling & Hypnosis

Sissy Mylrea has a Diploma in Counselling,  Certificates of  Introspective Hypnosis, Life Coaching and Time Line Therapy. 

She has specialized training in Sensorimotor Psychotherapy ( L1) and Havening that helps with emotional stresses and trauma.  ​

Using her empathic skills and transformative styles she has worked with thousands of clients, adults and children, over the last 15 years, to discover their journey to personal growth and change.

"We have an innate intelligence that gives us the ultimate answers that are within us.  With supportive guidance we can, like a starfish, regenerate to our greatest self."

"I will lead you past the darkness and show you to the light that dwells within you. It's our time to shine."

Shanelle Schick has a lifelong passion for connection within the community. As the Editor of The Hub Capricorn Coast online magazine, she uses her wealth of local knowledge and community connections to bring a monthly digital publication to its readers focussing on all things body, mind and soul. With her love of personal development, lifelong learning and growth, Shanelle enjoys sharing with others through writing, speaking and women's circles.

The Hub Capricorn Coast Bio

The Hub Capricorn Coast is your connection to all things body, mind and soul on the Capricorn Coast. Recently relaunching as a free monthly digital magazine, it gives readers a one-stop shop to keep abreast of local events and happenings. Sharing articles and columns from local therapists and practitioners its aim is to keep the community connected and updated.

Tamara Allen BSocWk (Hons)

I proudly achieved my Bachelor of Social Work First Class Honours from the Central Queensland University, after fifteen years of working with boarding students and their families across Rockhampton and Melbourne. Currently I work for Strengthening Family Connections in Yeppoon, alongside an amazing dedicated team of strengths-based Counsellors. I find my current work professionally rewarding, as it values the way that each of our clients are their own agent of change.

Caitlin incorporates the knowledge gained through her Bachelor of Health Science (Naturopathy) from Torrens University Australia, Diploma of Health Science from Australasian College of Natural Therapies, and Certificates IV and III in Fitness, to provide a holistic, helpful and tailored naturopathic experience. Using herbal and nutritional medicine, alongside diet and lifestyle modifications, Caitlin works with her patients to get to the root cause of the condition, relieve symptoms, and ultimately improve their quality of life. 

Combining up-to-date, evidence-based research and traditional naturopathic principles, Caitlin supports a variety of different conditions including (but not limited to); mental health conditions, women's health and hormonal imbalances, digestive complaints, stress management, fatigue and insomnia, thyroid conditions, skin conditions, immune dysfunction, and more. 
Discussion Panel Members
Livingstone Living Well-SPG was established in 2018 to reduce the risk of suicide within the Livingstone shire. Their aim is to build a sustainable community safety net by sharing resources, promoting and providing training and participating in events. LLW-SPG are auspiced by Central Qld Rural Health (CQRH) through funding received from the Australian Government through the PHN Program. Helen will provide an overview of the importance of communication in caring communities and introduce the guest speakers.
Helen Munn (BSc. Biol; GC Env Mmnt; GD Aboriginal Studies) is LLW-SPG Project Officer provided by CQRH. Helen has worked with CQRH for over 4.5 years, and lives in Yeppoon. Since 2019, Helen has worked with the local community to build a suicide prevention safety net and implement the CQSPP at a local level. Prior to this, Helen has worked in educational, government, mining and not-for-profit sectors. She completed a Grad Dip in Aboriginal Studies from the Uni SA in 2018, developed a cultural competency framework, and respectfully acknowledges her Aboriginal ancestors.

Dr Gemma Mann has been a lecturer in Enabling Education at CQUniversity for 14 years. She has also been the Coordinator and Trainer of the Ally Program since 2011. Through this, she incorporates lived experience in her teaching, research and publications to support LGBTIQ+ inclusion across the university and the wider community. With a background in physics and engineering, a PhD in Engineering and Masters of Education, Gemma's current research interests centre on student access to, experience and success in higher education no matter students' backgrounds. She has won awards for teaching and supporting students and creating an inclusive environment, and she is passionate about equity in education.

Mindframe is a national program supporting safe media reporting, portrayal and communication about suicide, mental ill-health and alcohol and other drugs. Elizabeth will outline Mindframe's best practice principles and how to apply them in any public communication about these issues.

Dr Elizabeth Paton is Project Lead on the Mindframe program at Everymind, which supports safe media reporting, portrayal and communication about suicide, mental ill-health and alcohol and other drugs. She also leads the Words and Images project, including development of guidelines and web-based resources to support image and language use that is safe, inclusive, hopeful and non-stigmatising. Prior to joining Everymind, Elizabeth worked as a science communication researcher and as an education and outreach officer for a neuroscience research centre. She has taught and published across areas such as suicide prevention, responsible research and innovation, media, communication and the creative industries. She has also worked as a broadcast journalist and freelance writer.

Joshua Matheson is a Project Officer who provides support to Dr Elizabeth Paton at Everymind.
Exhibitors
Inspired by the serenity of the rural town of Bondoola, Qld where the first seeds of service were planted, the original name 'Bon'doula Healings' was chosen as a reflection of commitment to service in reawakening a women's connection to her own divine essence, rebirthing herself amidst the challenges and uncertainty of life.

'Bon'doula Healings' began with an intention to create a safe and sacred space for women to reconnect in authentic sisterhood and break down the walls of competition, comparison, judgement and division amongst each other.

Since conception, we have gathered monthly in circle to hold space for one another, to release old beliefs & stories and respond to life with empowered choices. In circle we gain insight to our choices, our shadows and motives, and release these to restore our hearts and reconnect with our inner wise woman.

Today, The Bondoola Healer has become a sanctuary for women and men alike to restore body, mind and soul with the addition of several holistic therapies:

Massage for Fertility and Menstrual Health
Peri-Steam Hydrotherapy
Reiki
Relaxation Massage
Breathwork
Pregnancy and Postpartum Massage
Women's Circles and Ceremonies
Body Casting

We at CatholicCare believe everyone deserves to live a happy and fulfilling life.

For more than 45 years, we have been committed to supporting and empowering people through a range of services including aged care, disability, family support and mental wellbeing.

We are passionate about giving every person the support they need to become the very best version of themselves.

CatholicCare offers professional and confidential counselling services for people of all ages and walks of life.

Our counsellors can help with a range of issues and sessions can be arranged in person, over the phone or via video chat depending on what best suits you.

To find out more, visit our website www.catholiccarecq.com or call our friendly team on 1300 523 985.

Council's Community Development Sport and Recreation Team will be there to talk about building the capacity and resilience of our communities and how people can get involved in local not-for-profit sporting groups. Council's Youth Worker will also be there to have a chat about our youth services and current programs.

COMMUNITY SOLUTIONS are experts in helping people with disability, injury or health conditions gain independence through meaningful employment.

We take the time to understand an individual's needs and provide a tailored approach to ensure they get the right support sooner.

Our services connect people with employment, education and training, personal wellbeing programs and specialist disability services. We start where you are to understand your needs, and the needs of your community to make change happen.

Our passionate team put your needs first and have a proven track record of success. We have strong, established relationships with employers and are job matching specialists

At Community Solutions we are committed to our Customer Promise and committed to providing the best quality service.

Central Queensland Rural Health (CQRH) has over 25 years experience in health service planning within the Primary Health care sector.

We aim to support, enhance and develop the delivery of quality health services to the residents of rural Central Queensland. We achieve this by working in collaboration and co-operation with general practitioners, other health service providers and consumers across our footprint.

Experience the HEALY, it is a revolutionary Quantum Frequency device.

In Europe Healy is a medical device for the treatment of pain in chronic pain, fibromyalgia, skeletal pain and migraine, as well as the supportive treatment for mental illness such as depression, anxiety and related sleep disorders. Healy is currently with the TGA as a Holistic and Wellbeing device, and is approved through TGA as a device to support chronic pain. The frequency programs runs for 20 minutes and support balancing your mental balance.

Menke Drenth is an Independent Healy World Membe and a Registered Paediatric Nurse of 20+years. She is also a teacher of Yoga to adults and children 1:1; with overwhelm stress, anxiety ADHD and other mental imbalances.

The Hub Capricorn Coast is your connection to all things body, mind and soul on the Capricorn Coast. Recently relaunching as a free monthly digital magazine, it gives readers a one-stop shop to keep abreast of local events and happenings. Sharing articles and columns from local therapists and practitioners its aim is to keep the community connected and updated.

CQID's board and staff members work together to make a difference to the lives of Aboriginal and Torres Strait Islander people who live across Central Queensland and surrounds.

Our mob is representative of the people we serve.

We have personal knowledge and shared experience of the challenges in community.

You can trust that we will understand your problems.

Find out more information at https://cqid.com.au/

The Capricorn Coast Mental Health Service is based at the Capricorn Coast Hospital and Health Service. We are a multidisciplinary team including Social Workers, Nurses, Psychologists and Psychiatrists. The Capricorn Coast Mental Health Service looks after consumers with severe and complex mental health issues who's needs cannot be met by other services in the community requiring Psychiatrist input.

The team is made up of an intake team servicing all referrals and Emergency Department presentations and a case management team for our consumers requiring longer term support.